St Michael's wins 'Rise and Shine' environmental award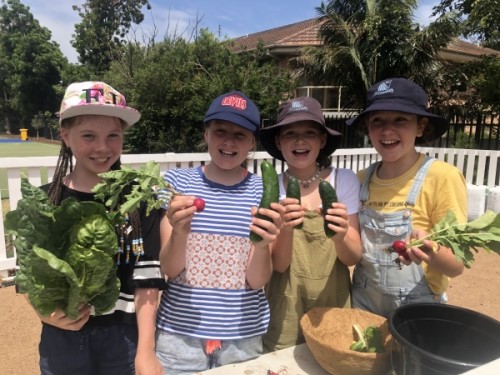 Congratulations to our St Michael's school community – we won first place for 'Best Ongoing Environmental Initiatives' at the Wollongong City Council Rise and Shine Awards!
The Wollongong City Council 'Rise and Shine Program' aims to increase civic pride, accelerate environmental improvement and increase quality of life for present and future generations.
This year, our school's Wollongong Environment Network contact, Mrs Kelly, and Religious Education Coordinator (REC), Miss Groves, entered St Michael's into the Rise and Shine competition based on the areas of our School Environment Management Plan (SEMP) that we've been working on this year. One focus has been on our continuing environmental initiatives – including our streamlined waste management system and vegetable gardens.
On Thursday, 5 December, Mrs Kelly and Miss Groves attended the Rise and Shine annual awards ceremony to accept St Michael's FIRST PLACE in the 'Best Ongoing Environmental Initiatives' award category. They received a certificate and funds to spend on further enhancing our environmental initiatives at the school.

Both teachers commented that this would not be possible without the support of our principal and staff, our parents (led by Jeremy Smith) and students – all who contribute to the environmental initiatives in the school.
Mrs Kelly described part of the process: "Jeremy came and worked with Year 5 and Year 6 students. The students were involved with Stage 1 of the planting process where they planted seeds into egg cartons which they used as planter trays. Over the next couple of weeks students will be responsible to water and take care of their seeds. They will then be transferred to the garden beds outside."
Miss Groves added, "At St Michael's we take caring for the environment seriously and see it as our responsibility to be stewards of God's creation. We want to make a difference, educate students to be actively responsible and raise awareness and action within our community."
"As a school we have a passion to move towards a sustainable future. Over recent years, we have streamlined recycling and waste management procedures across the whole school and now we would like to use our healthy compost on some vegetable gardens! Our goal is for students and staff to create, grow and care for a vegetable garden with community involvement" — Miss Grove, Religious Education Coordinator
---